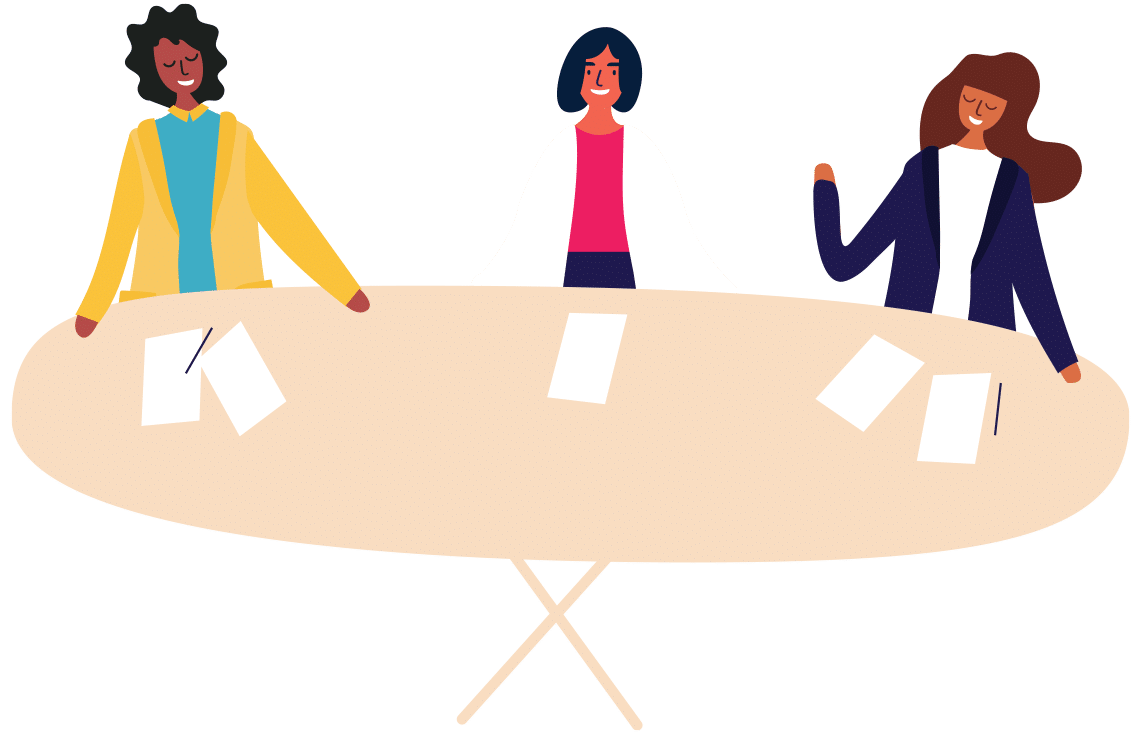 Accelerate Her Future's Fellowship Circle for self-identifying Black, Indigenous and other women of colour pursuing early-careers in business and tech.
Winter 2022 cohort applications to become a Fellow coming soon.
A highly curated and intimate Fellowship program for Black, Indigenous and women of colour (BIWOC) in Canada looking to invest in their career development and position themselves as strong candidates — while investing in their future selves.
AHF's Fellowship Circle is a 10-week by-application program designed by BIWOC for BIWOC – a tailored and highly curated experience providing small group mentorship circles, career learning labs, fireside chats, and networking with managers and leaders from top business and tech companies

. 
Important Dates for Summer Cohort:
Applications Open: March 18, 2021
Applications Close: April 11, 2021
Successful Fellows Informed by: May 7, 2021
Fellowship Circle Summer Cohort: June 2 – August 4, 2021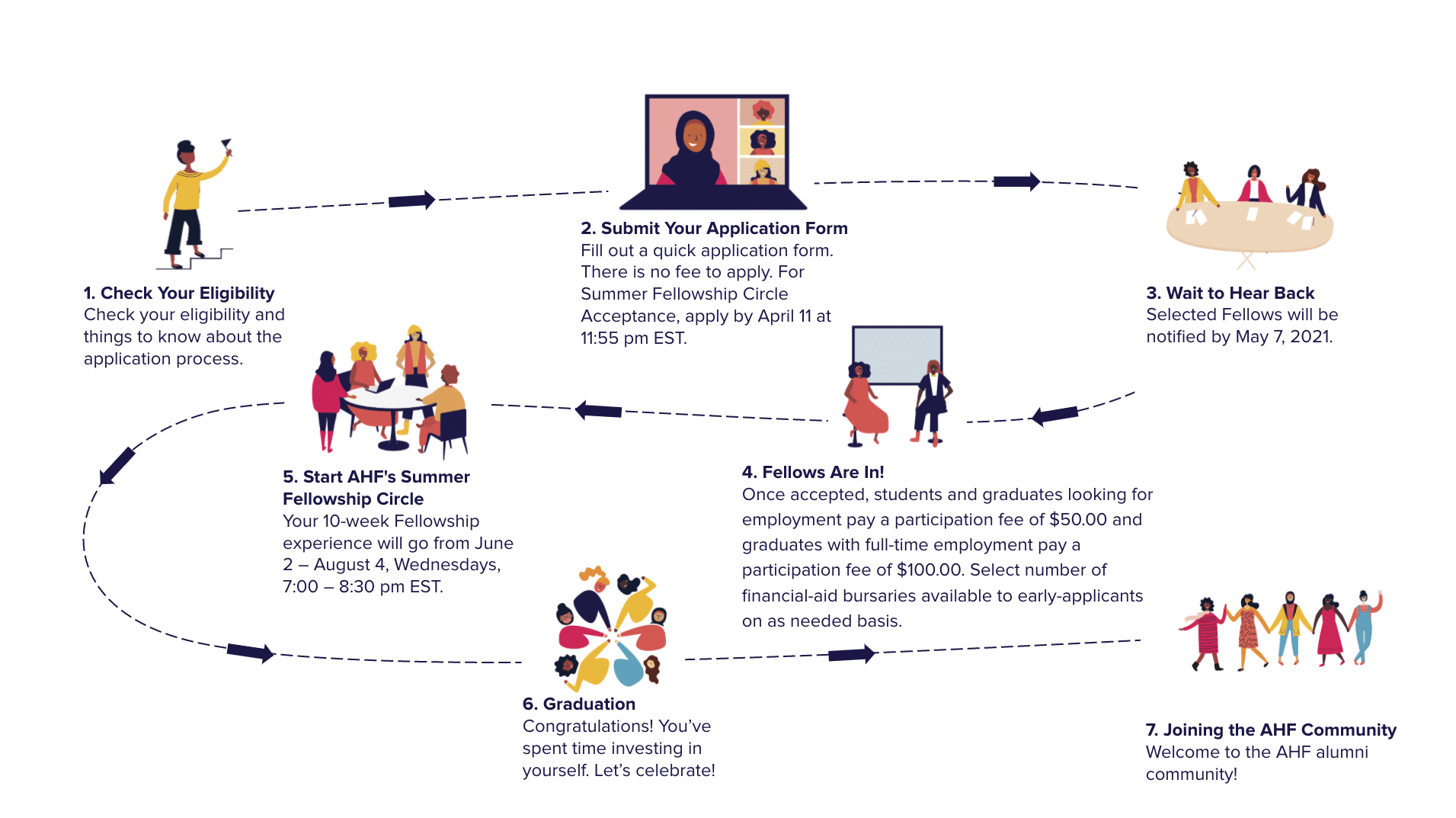 Check Eligibility Criteria Below 
I self-identify as a Black woman, Indigenous woman, or other woman of colour (i.e. Arab, Filipino, Japanese, Korean, Latin American, South Asian, South East Asian, West Asian, East Asian, etc.) based in Canada

I am currently a student at or recent graduate from a Canadian college or university, or have been in the workforce for up to 3 years *
I am pursuing a career in business or tech

I am committed to completing AHF's 10-week Fellowship Circle every Wednesday, June 2 – August 4, 2021, 7:00 – 8:30 pm EST


* If you are a student at a Canadian college or university and are taking a gap semester or year due to the pandemic, you are eligible to apply.
Participate in virtual small group mentoring circles

Attend virtual Career Learning Labs, fireside chats and panels led by engaging facilitators, early-career women, leaders and allies

Participate in a holistic 10-week program tailored to your cohort's needs covering leadership development, career advocacy and readiness skills, wellness and more

Develop your gender and racial equity knowledge
Access AHF tools and resources to get the most from your group mentoring circles

Expand your network of peers and industry leaders

Attend a virtual program completion wrap-up event including Career Expo and speed networking and gain access to AHF's online alumni community

Access to discounts and/or early access to other AHF webinars and events
What is the eligibility criteria?
Please refer to the Eligibility Criteria found on the Become a Fellow page.
What types of questions should I expect in the application?
The application form is made to be user-friendly. It includes a combination of basic demographic and applicant profile questions as well as open-ended questions. You will also attach a 2 page PDF copy of your resume.
What is the selection committee looking for when they review my application?
The selection committee will encompass the AHF team. Each submission will be anonymized (names and schools removed) and reviewed independently by two selection committee members. Criteria will include an understanding of AHF mission and Fellowship Circle Program; clear expression of career goals and alignment with Fellowship Circle goals; views gender and racial equity; leadership potential; growth mindset and strong commitment to the value of fellowship and community.
Is there a participation fee?
There is no fee to apply. Selected Fellows pay a participation fee, if they are chosen. Participation fee for students and graduates looking to secure employment is $50. Participation fee for graduates employed is $100. We offer financial support bursaries for early applicants, which you can indicate in the application form.
What is the time commitment for AHF's Fellowship Circle?
AHF's Fellowship Circle Summer cohort will run virtually over 10-weeks, June 2 – August 4, every Wednesday 7:00 pm – 8:30 pm EST.
What industries and companies will be represented by the mentors and facilitators in the program?
Mentors and speakers will represent the business and tech sectors, as well as subject matter expertise in the area of career and leadership development and equity, diversity and inclusion.
How many times per year will AHF's Fellowship Circle run?
In 2021, AHF's Fellowship Circle runs two times: Winter (January to March) and Summer (June to August). There is an application period prior to each offering. Plans for 2022 are being finalized.

Can I apply again for a future Fellowship Circle?
Of course! Applicants who were not successful for the Winter and/or Summer Cohort can apply again for a future cohort.
I'm interested in supporting the program as a mentor, or corporate partner. How do I get involved?
We'd love that. Refer to the Become a Mentor page of our website to learn more about joining the Fellowship Circle as a mentor. To inquire about partnership opportunities go to the Become a Partner page under Get Involved.