Accelerate Her Future™ is a purpose-driven career accelerator providing self-identified Black, Indigenous and women of colour (BIWOC) tailored programs to launch their careers in business and STEM while building networks of solidarity and action. We believe Canada is filled with ambitious and talented BIWOC who have the power to advance their careers when they have access to conditions to thrive at a pivotal time in their lives including influential networks, mentorship, solidarity, tools, skills and a range of opportunities.
Founded by Dr. Golnaz Golnaraghi, the idea of AHF was born out of her lived experiences and microaggressions as a racialized immigrant woman particularly in the post-secondary environment, years of college/university teaching in business schools, mentorship of early-career women, and her doctoral thesis and other research. AHF was a seed of an idea in 2016 as Golnaz knew she wanted to mobilize action and meaningful grassroots solutions to foster more equitable workplaces for BIWOC. In 2018, Golnaz approached Sumayya Daghar, a research partner and founding AHF team member to work together and collaborate closely on AHF's strategic direction. The need for AHF was solidified that same year when they hosted a design session with women of colour to better understand career development experiences and needs. It was unequivocally clear that the lived experiences of BIWOC were not an anomaly. It was also at this session where several members came forward to work with Golnaz and Sumayya.
AHF hosted its first Summit as a pilot offering in October 2019 at the University of Toronto and the response was overwhelmingly positive. After the pandemic, AHF evolved into a virtual career accelerator spanning the country. This transition was not a jump to quick action process, but one that has been intentional. Grounded in years of research and consultations, the Fellowship Circle was AHF's first offering launched Fall of 2020 and co-created with and for BIWOC to inspire and ignite action – for our participants to build networks and community, develop skills and competencies and access opportunities. This investment also requires a community of women supporting and standing in solidarity – as mentors, as connectors, and as a community advocating for change within their communities and workplaces.
In early 2021, AHF was a recipient of an Investment Readiness Grant through the Government of Canada which partially funded our pilot Fellowship Circle Winter 2021 and community design sessions to create our first five year strategic plan with sustainable financial and social impact at the core. True to our "nothing about us, without us" philosophy we engaged our community in design sessions to do this work.
We are intentional about doing things differently — reflected in our approach to our work and mission.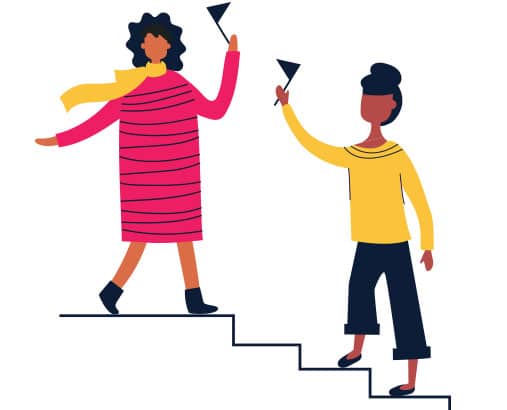 Our Mission
The start of an exciting journey.
Our mission is to create systemic change by accelerating an ecosystem of solidarity and action committed to BIWOC career success on our terms.
Our Vision
We have important work to do.
We envision a Canada in which BIWOC are fully participating and thriving at all levels of leadership in their communities and careers of choice.
Courageous Action
We believe in informed action over optics. Our action seeks to dismantle systemic barriers. Systems change starts with each of us taking small steps each day. Our collective effort leads to change.
Compassionate Engagement
We believe in the power of community — BIWOC at all stages of their careers along with those who stand in solidarity. We engage compassionately by honoring multiple lived experiences. We create safe spaces for inclusive conversations and hold each other accountable.
Authentic Voice
We believe in the power of our authentic voices to talk about issues that matter, to build bridges, and to have honest conversations. As a community, we invest in each other, and support, celebrate and amplify the excellence of BIWOC.
Transformative Solutions
We believe that status quo is no longer an option. We believe in having multiple lived experiences, voices and perspectives listened to and heard. We listen, observe, learn, identify what works, learn from what doesn't, iterate, co-create and share perspectives and solutions that seek to transform.