We believe Canada is filled with ambitious and talented Black, Indigenous and other self-identifying women of colour who have the power to advance their careers.
Launched in 2019, Accelerate Her Future™ is a national career accelerator for women of colour in pursuing early-careers in business and tech. We offer unique opportunities for our community to invest in their long-term career development potential and accelerate themselves as strong candidates during a pivotal time in their lives.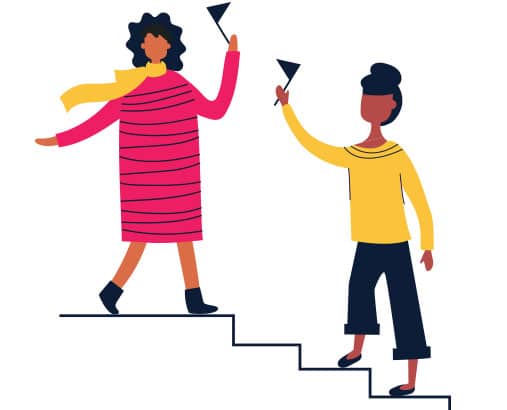 Our Mission
The start of an exciting journey.
Our mission is to provide women of colour leadership development, career-readiness skill-building, mentorship, and a diverse influential network of mentors and allies committed to their career success.
Our Vision
We have important work to do.
We envision a world where women of colour are fully participating at all levels of leadership.
Courageous Action
We believe in informed action over optics. Our action seeks to dismantle systemic barriers. Our action is informed by data, evidence, information and analysis. Systems change starts with each of us taking small steps each day. Our collective effort leads to change. 
 Compassionate Engagement
We believe in the power of community — women of colour at all stages of their careers in business and tech along with mentors and allies. We engage compassionately by honoring multiple lived experiences. We create brave and safe spaces for meaningful conversations and hold each other accountable. 
Authentic Voice
We believe in the power of our authentic voices to talk about issues that matter, to build bridges, and to have honest conversations. As a community, we invest in each other, and support, celebrate and amplify the excellence of women of colour.  
Transformative Solutions
We believe that status quo is no longer an option. We believe in having multiple lived experiences, voices and perspectives at the table to create transformative solutions. We listen, observe, learn, identify what works, learn from what doesn't, iterate, co-create and share perspectives and solutions that seek to transform.