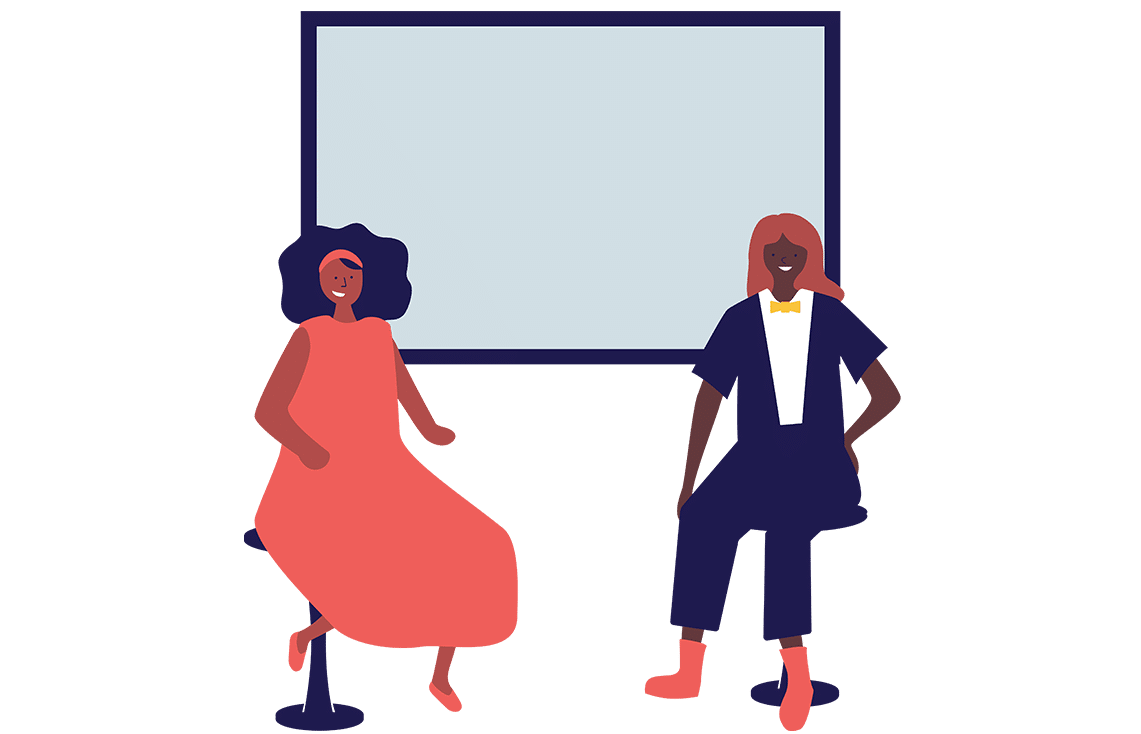 Apply to mentor talented early-career BIWOC in the Fellowship Circle program.
Apply to become a Mentor for upcoming cohort.
AHF's Fellowship Circle is a 10-week by-application program designed by BIWOC for BIWOC – a tailored and highly curated experience providing small group mentorship circles, career learning labs, fireside chats, and networking with managers and leaders from top business and tech companies.
Redefining Mentorship as a Pathway to Allyship and Partnership:
We believe in a strengths-based, reciprocal approach to mentorship. Traditional approaches tend to be hierarchical and top down. We believe that our fellows and mentors bring valuable contributions and perspectives where both can benefit and learn. Through equal partnership and a learning mindset, this approach focuses on the whole person and promotes respecting unique lived experiences. 
This experience is an opportunity for personal growth and the role each of us can play in systemic change with and for BIWOC. Whether to set and commit to learning goals as a mentor in the program. Or to grow our practice as better, more active allies to one another within the program or our colleagues outside the program.
Together we are building a community with and for early-career Black, Indigenous and women of colour to ensure their full participation and leadership at all levels in business and tech. 
Important Dates for Summer Cohort:
Applications open: March 18, 2021
Applications close: Ongoing basis until spots filled
Selected Mentors informed: Ongoing basis until spots filled
Fellowship Circle Summer Cohort: June 2 – August 4, 2021
Consider getting involved as a mentor if:
You self-identify as a Black woman, Indigenous woman, or other woman of colour (i.e. Arab, Filipino, Japanese, Korean, Latin American, South Asian, South East Asian, West Asian, East Asian, etc.); or

You self-identity as a White woman committed to doing the inner work and taking consistent action as a active ally to BIWOC

You are a manager or leader in Canada with a

minimum of 5 years of experience in business or tech

You commit to participating in a minimum of six weeks of the program, fostering trust and reciprocal mentoring relationships with AHF Fellows through small mentorship circles 
You are invested in listening, learning and gaining unique insights about the experiences of early-career BIWOC

You wish to evolve and grow as an equitable leader by participating in our uniquely designed orientation and program that embeds a racial and gender equity lens (

you will have access to all Career Learning Circles, panels, fireside chats too!)

You commit to using your social capital and privilege to advance the our fellows as future leaders in business and tech 

You wish to grow your professional network and community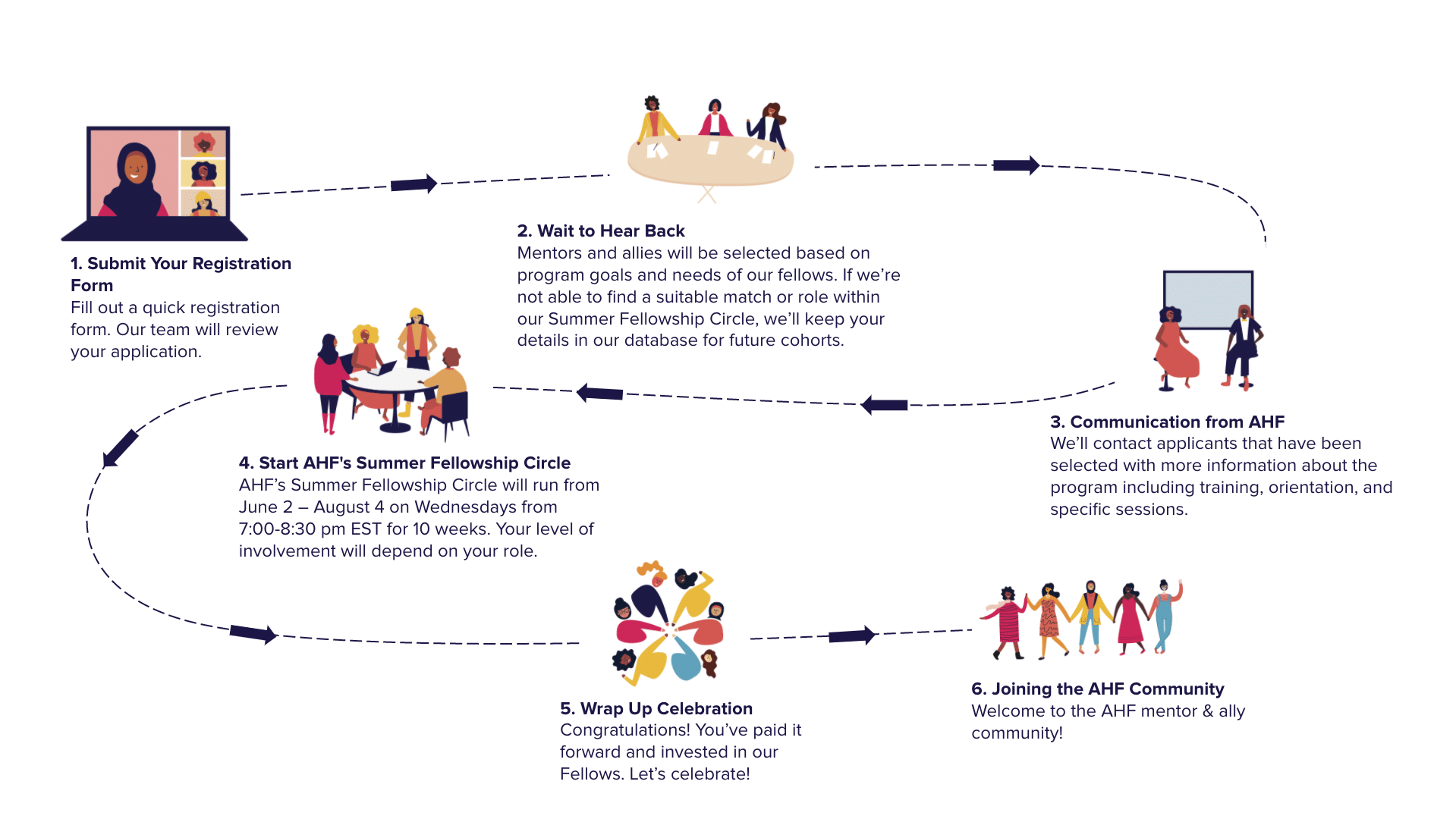 We believe Canada is filled with ambitious and talented Black, Indigenous and other self-identifying women of colour (BIWOC) who have the power to advance their careers when given the resources, tools, mentorship,  genine allyship and community, committed to their success.
BIWOC starting out in their careers don't always see themselves represented meaningfully or participating fully in leadership positions levels or boards. This lack of representation and access makes it harder to see the possibilities at a pivotal time in their lives.
What's more, AHF has connected with more than 200 early-career BIWOC to better understand their career development and workplace experiences. The results were eye-opening. We heard that they face many gaps including lack of meaningful access to role models, influential networks, mentors and allies committed to their success. We also heard that they don't know how best to develop their networks or access a full range of opportunities out there. Some are already in need of strategies for how best to navigate workplace experiences unique to BIWOC.  
This program is not about about optics. This program is about meaningful impact and change. What are you waiting for?
What is the eligibility criteria to become a mentor?
Please refer to the Consider Applying as a Mentor section found on the Become a Mentor page.
What can I expect in return for participating as a mentor?
We won't be offering an honorarium or stipend. You can expect to grow as an equitable leader by participating in our uniquely designed orientation and program that embeds a racial and gender equity lens, grow your professional network, and learn about the unique experience of early-career BIWOC. Most importantly, together we are building a community with and for early-career BIWOC and using our social capital to help them advance as future leaders in business and tech.
How should I apply as a mentor?
Click on the "Apply Now" button on the Become a Mentor page and you will be directed to the application.
What types of questions does the application include?
The Mentor application is made to be user-friendly for mentors. It includes a combination of basic demographic, applicant profile and open-ended questions to better understand your background, experience and perspectives about AHF's mission, mentorship and allyship, and commitment to advancing BIWOC in their career development and workplaces.
What is the AHF team looking for when they review my application?
Mentors will be selected based on alignment with our program goals and needs of our early-career Fellows. If we are not able to find a suitable match or role within our Fellowship Circle, we will keep your details in our database for future cohorts. We appreciate your generosity and interest in our programming!
What is a mentor's commitment in AHF's Fellowship Circle?
AHF's Summer Fellowship Cohort will run virtually over 10-weeks, June 2 – Aug 4, every Wednesday, 7:00 pm – 8:30 pm EST. We require that mentors commit to attending a minimum of six sessions including Orientation, Four Group Mentorship Circles and the Wrap Up Event and Career Expo.
How many times per year will AHF's Fellowship Circle run?
In 2021, AHF's Fellowship Circle runs two times: Winter (January to March) and Summer (June to August). There is an application period prior to each offering. Plans for 2022 are being finalized.
Can I participate in a future Fellowship Circle as a mentor?
Absolutely. We welcome mentors who are passionate about our mission and making an active difference in the careers and lives of our fellows. You can indicate your participation frequency and interest in the mentor application.
I'm interested in having my company become a partner. Who should I contact at AHF?
We'd love that. You can email us at info@accelerateherfuture.com or go to the Become a Partner tab under Get Involved to submit a message.